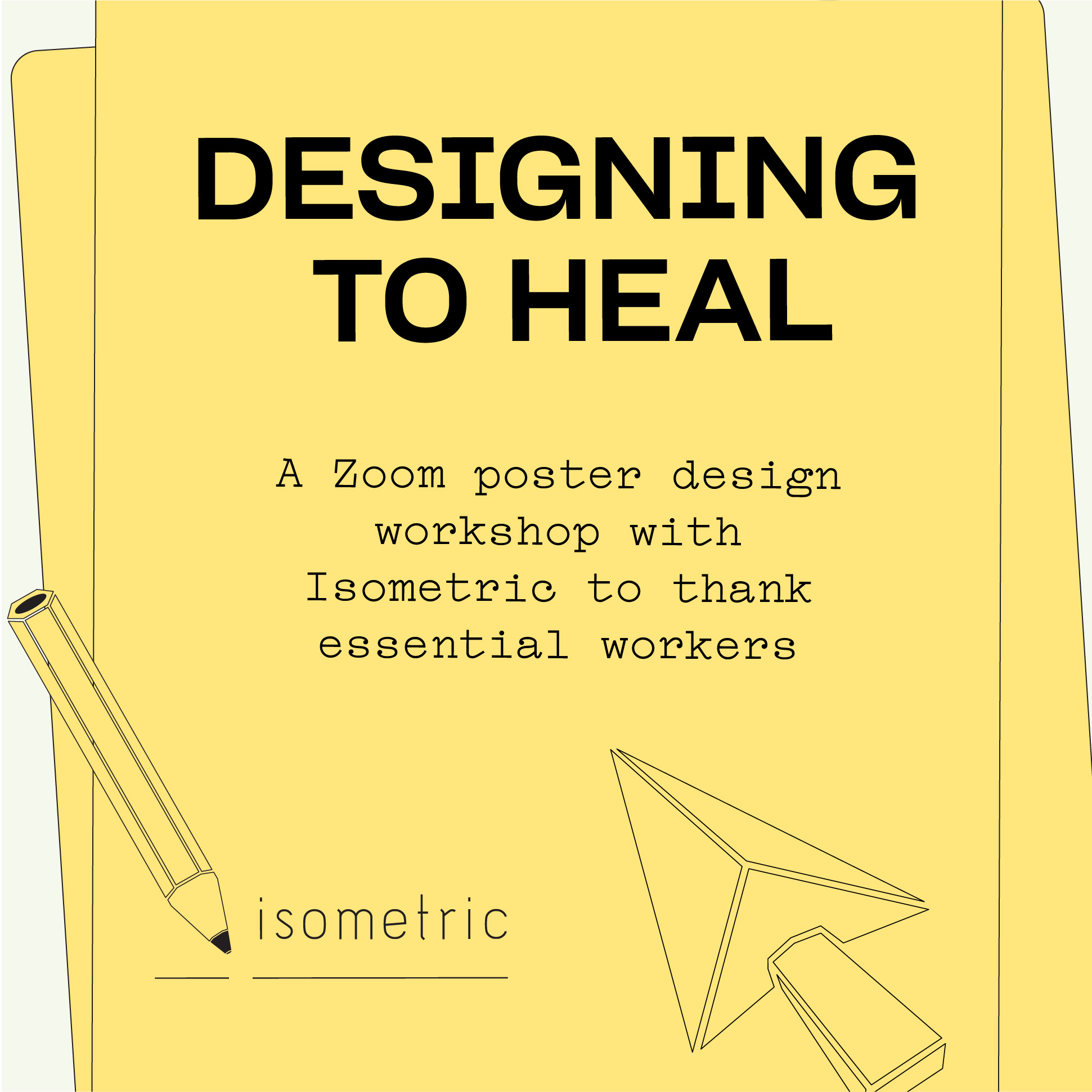 Designing to Heal: An Online Workshop
April 20, 2020
5–7pm
---
Join us for a Zoom poster design workshop with Isometric, and create your own posters to thank essential workers.
Medical professionals and "essential workers" are at the frontlines of the coronavirus crisis, but they are not alone in this fight. Let's design posters to show our appreciation and support!
People of all ages and skill backgrounds are invited to participate in this online poster design workshop. Posters may be created using physical or digital tools—whatever is most accessible to you! We will begin with a brief introduction and presentation by Poster House Chief Curator Angelina Lippert and Education Director Samantha Hirsch on the history and purpose of posters. This will be followed by an interactive workshop led by Isometric Studio partners Andy Chen and Waqas Jawaid.
(1) THINK: We will begin by brainstorming several typographic and/or image-based messages.
(2) SKETCH: We will then create five small thumbnail sketches for potential poster compositions.
(3) CREATE: Finally, we will select one of those ideas and develop the final poster, which can be shared on social media.
At all three intervals, you will have the opportunity to share your work with the larger group for feedback. You are welcome to work using digital or physical media. Isometric Studio team members will be participating live and sharing their own design process with you.
When you register, you will receive a Zoom link, some directions on how to prepare for the workshop, a follow-along guide for the event, and instructions on documenting and sharing your poster.
We look forward to seeing you there!
This online workshop is presented in conjunction with Isometric Studio.
BEFORE THE WORKSHOP:
Download Zoom
It is available for free for your computer or as an app for your phone.
Set up your space
(If you are working off the computer)
If you are using physical media, prepare 2 sheets of paper (ideally 8.5"x11" or 11"x17") with a rigid backing surface such as a table top or wooden board. Assemble any other materials you would like to use, such as pencils, color pencils, chalk pastels, and/or paints, etc.
Download Adobe Illustrator Template 
(If you are working on a computer)
We have created 11"x17" template files for your design which will make it easy to save them for sharing online. We have also provided artboards for Instagram stories and posts in the correct dimensions.
Please download them here.