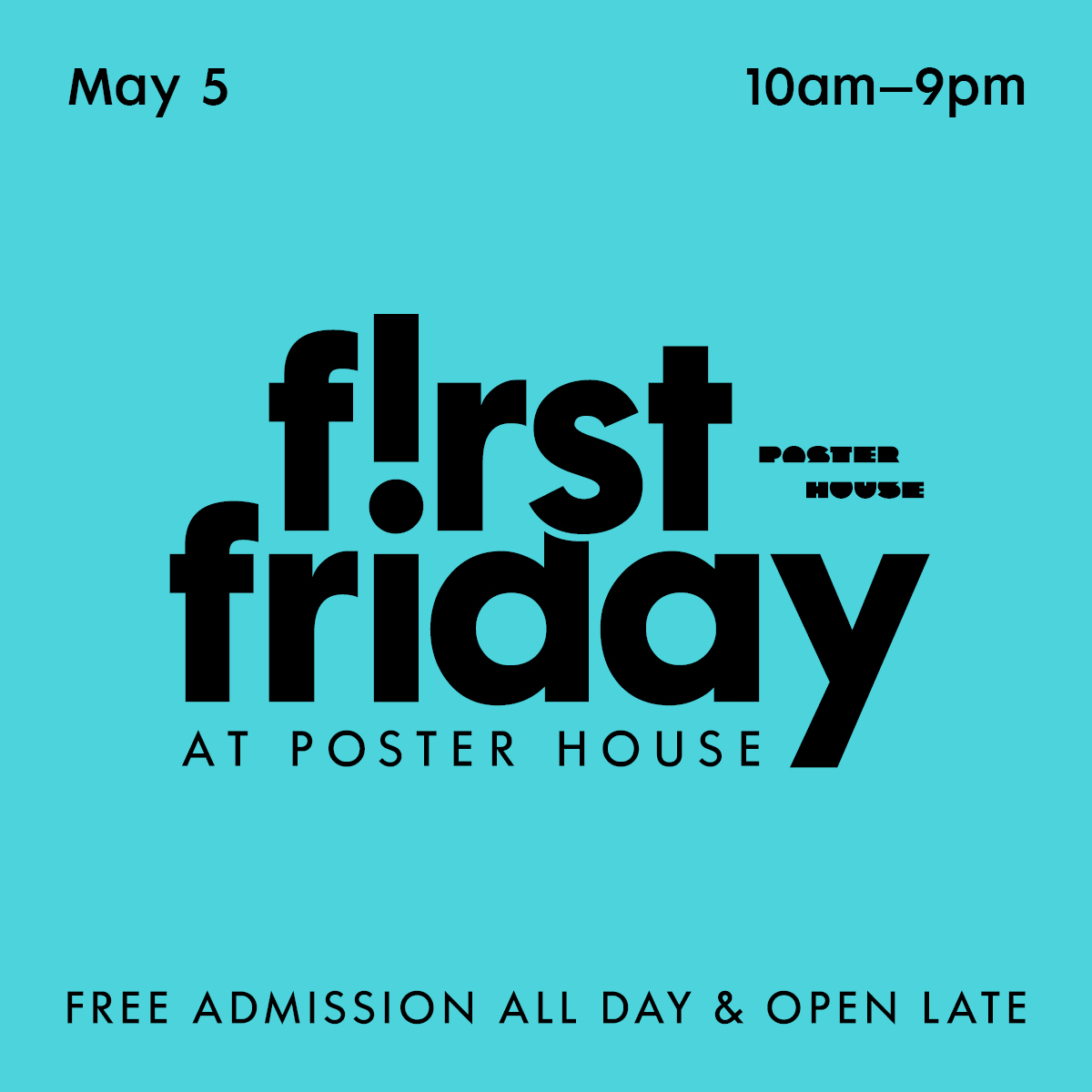 First Friday
May 5, 2023
10am–9pm
---
Join Poster House on the First Friday of every month for free admission and extended hours! Explore the museum's latest exhibitions and get in on the fun by attending a tour, workshop, or activity throughout the day. This month, the museum is thrilled to partner with Welcome to Chinatown for a series of programming that celebrates the culture, community, and resilience of Chinatown. Stop by and learn more about Welcome to Chinatown and how you can support the organization's recovery efforts. 
1-8pm MKC Threads Heatpatch Totes
Design your own tote bag inspired by Poster House and Welcome to Chinatown! We have curated a selection of graphic images drawn from the museum's past exhibitions and  Welcome to Chinatown's collection. Your choices will be hand pressed for you, ready for you to take home in minutes! Supplies are very limited and proceeds from each tote bag will support Welcome to Chinatown. MKC Threads Inc. is a minority-owned, AAPI embroidery, print, and promotional item small business with a mission to empower the community through quality branded apparel and merchandise. With their slogan "You Envision, We Create," MKC Threads is dedicated to providing the power of personalized merchandise to the AAPI community.
3pm The Chinese Red Envelope as an Artistic Gift
The red envelope is a symbolic gift often exchanged during celebrations,including Lunar New Year, weddings, and birthdays. It is typically filled with crisp, new dollars, wishing prosperity to those who receive it. Many contemporary envelope designs are mass-produced by anonymous artists—however, today the artist is you! Led by NYC-based artist Jenny Acosta, this lighthearted exercise will attempt to reclaim creative ownership of the traditional Chinese red envelopes and remix them with your contemporary perspective. Participants will learn basic techniques of linoleum carving, making their printed editions embossed in silver and gold.
5pm  Community Care through Art with Amanda Phingbodhipakkiya
Join Poster House Artist in Residence Amanda Phingbodhipakkiya in conversation with Harry Trinh of Welcome to Chinatown for a conversation on Amanda's project We Are Chinatown, a vibrant portrait series and archive that captures the rich intergenerational stories of Manhattan's Chinatown still reeling in the wake of the pandemic. Learn how Amanda brings an anthropological lens to her practice of uplifting AAPI narratives, capturing not just a participant's likeness, but their journey through the community, their struggles and triumphs, and the objects and artifacts that hold special significance to them. Questions strongly encouraged!
7pm Choy Lay Fut Lion Dance
New York Choy Lay Fut is a historic Chinatown Lion Dance Team with a 30 year history. They will perform a double bench routine where a lion will navigate and try to find the lucky cabbage to wish those in attendance good luck and good fortune. The lion will be around to meet and mingle with guests afterward, so have your cameras ready!
7:30pm Happy Hour  
Enjoy light snacks and refreshments courtesy of our friends Lunar Hard Seltzer, Halmi, and Popadelics at Café des Affiches.