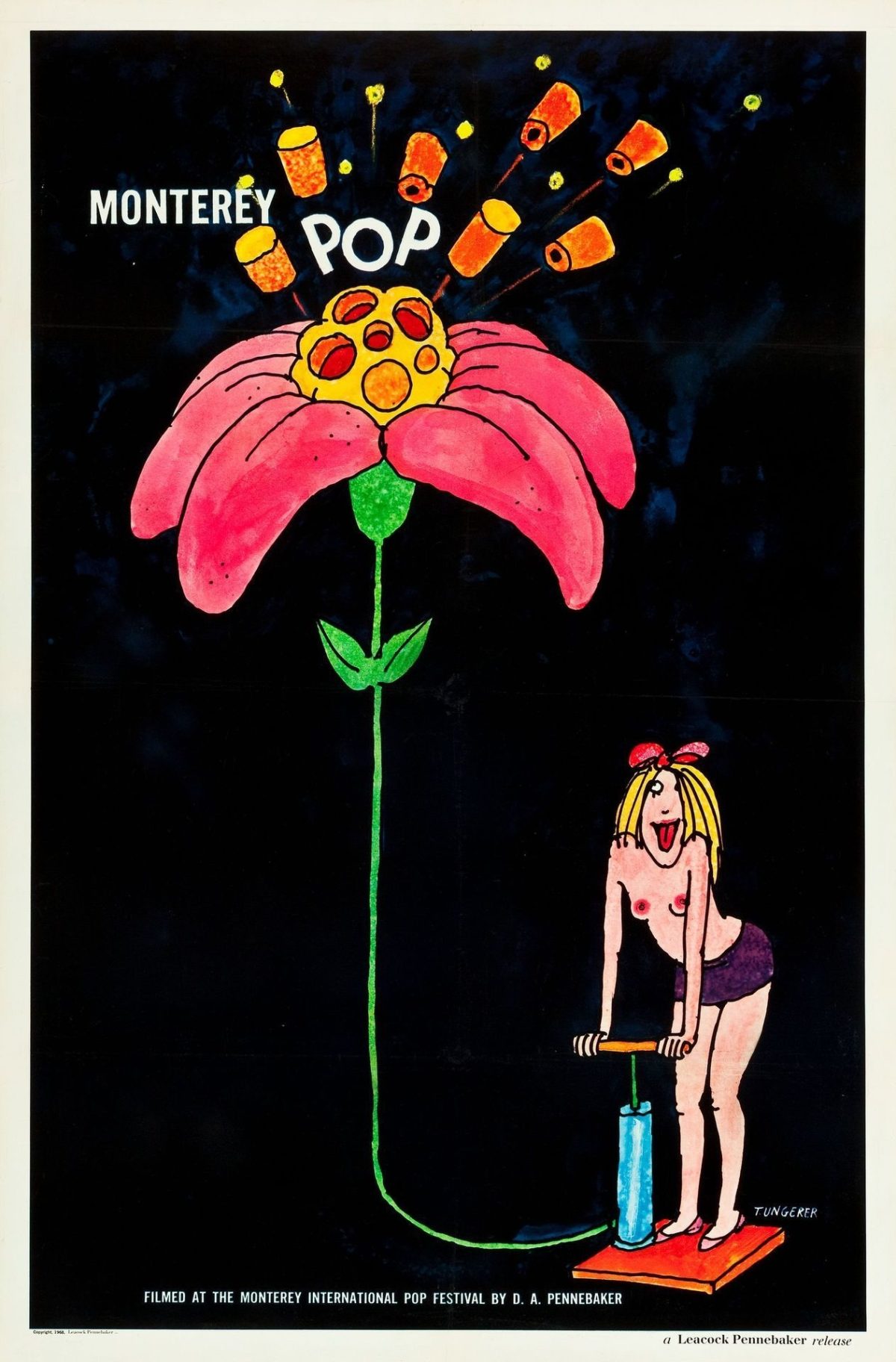 February 12, 2019
Remembering Tomi Ungerer
Rating: R
I have often said that I thought that Tomi Ungerer was the greatest living poster artist.
As of Friday night, that is no longer the case. The artist passed away at his daughter's home in Ireland late that evening, leaving behind an unmatched legacy in the world of illustration and graphic design.
I am full of contractions & why shouldn't I be?
Tomi Ungerer
His meteoric rise to fame in America is best mapped out in the fabulous documentary Far Out Isn't Far Enough: The Tomi Ungerer Story, a film I found myself watching just hours after I heard the news of his death. He arrived in New York City in 1956, $60 in hand, and marched his portfolio around Manhattan in a wholesale Trojan condom box trying to get work. That image of the serious blended with the absurd feels to me like a beautiful summary of what wonderful posters were to come.
His irreverent, titillating, highly imaginative designs were a stark contrast to the staid happy-homemaker ads of the era, so typically imbued with a Rockwellian sense of middle American propriety. He presented an alternative world view, one with shadows of danger, the unknown, the erotic, all filtered through these loose, simple lines that conveyed so much with so little.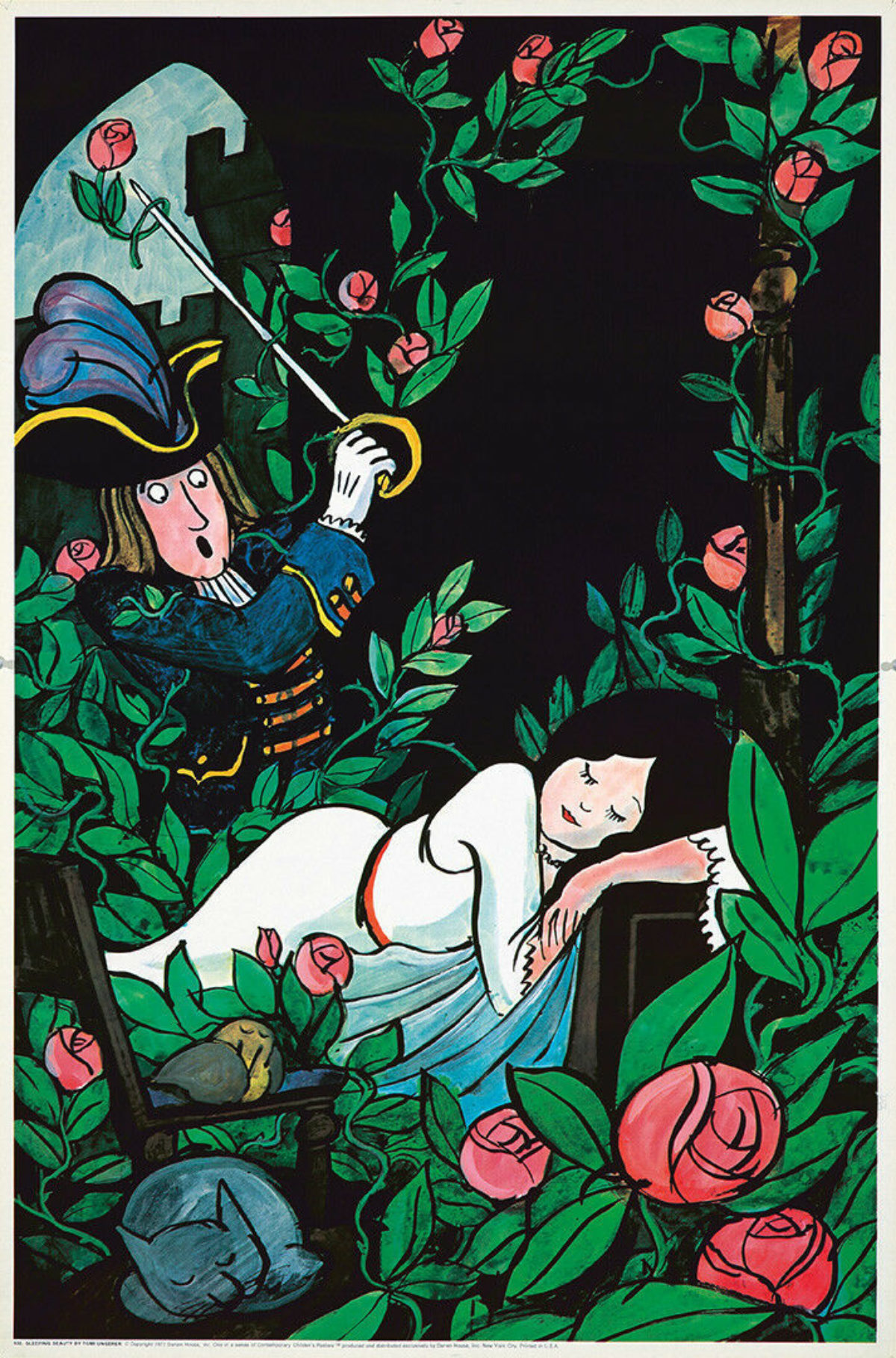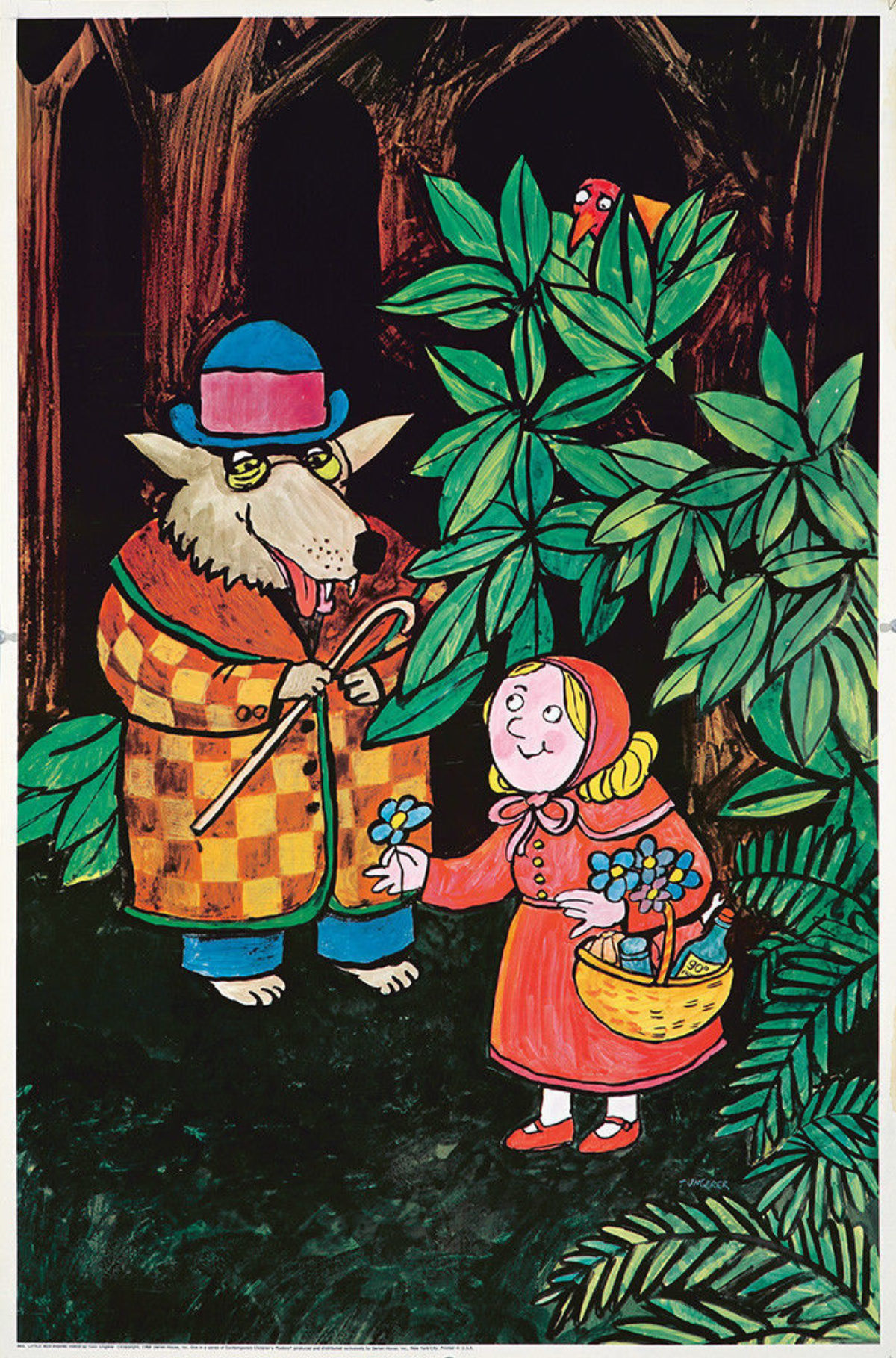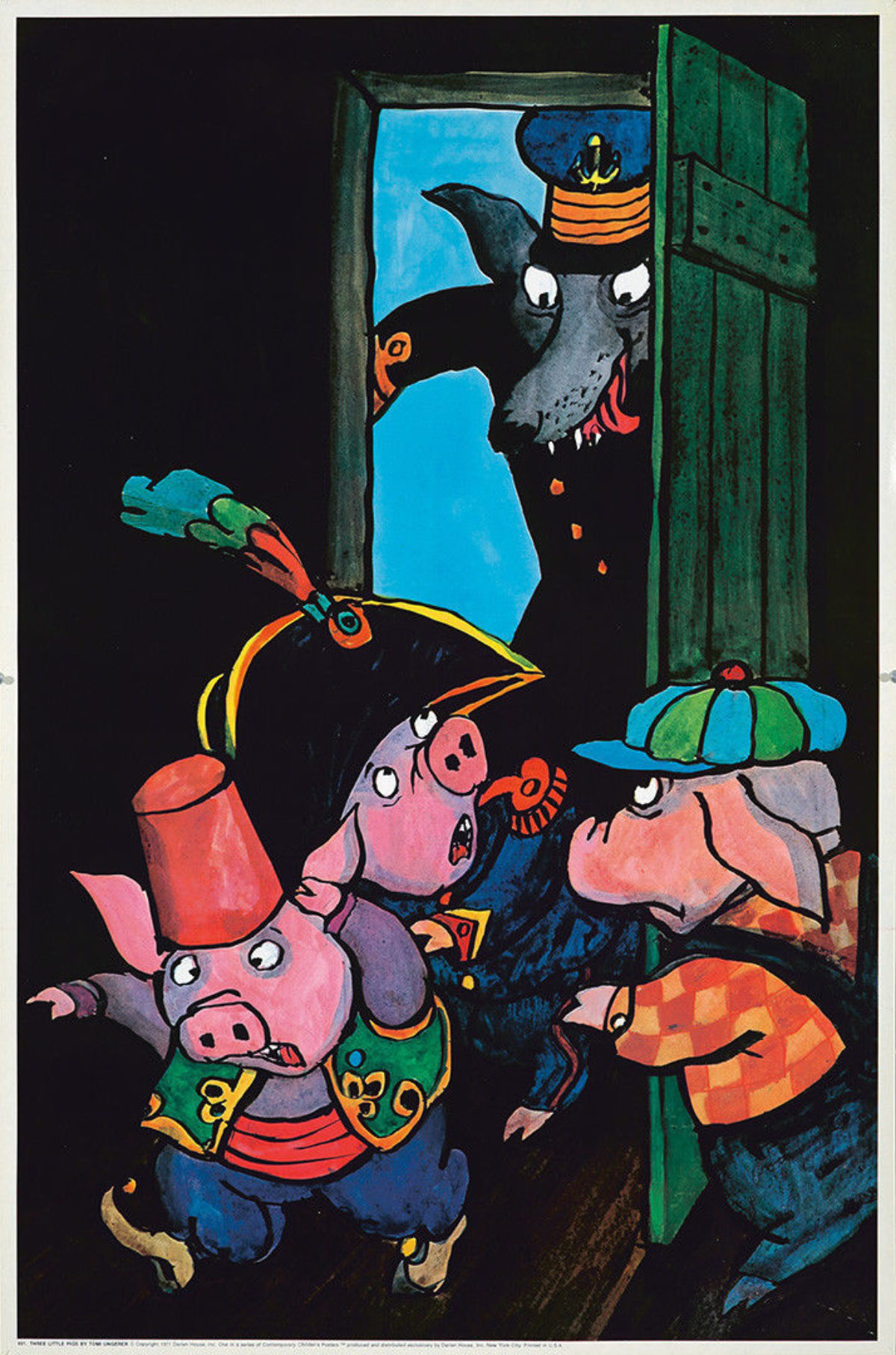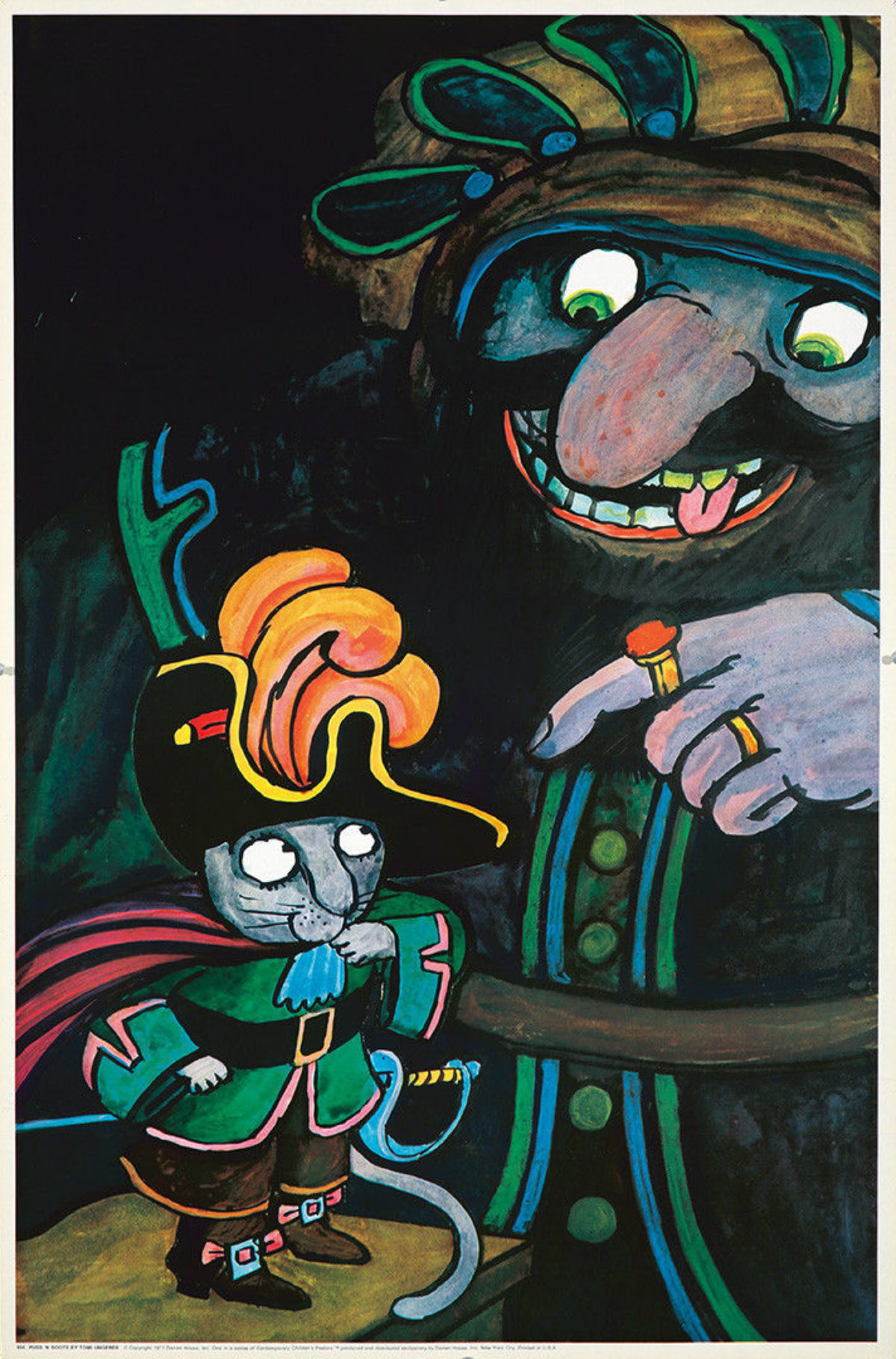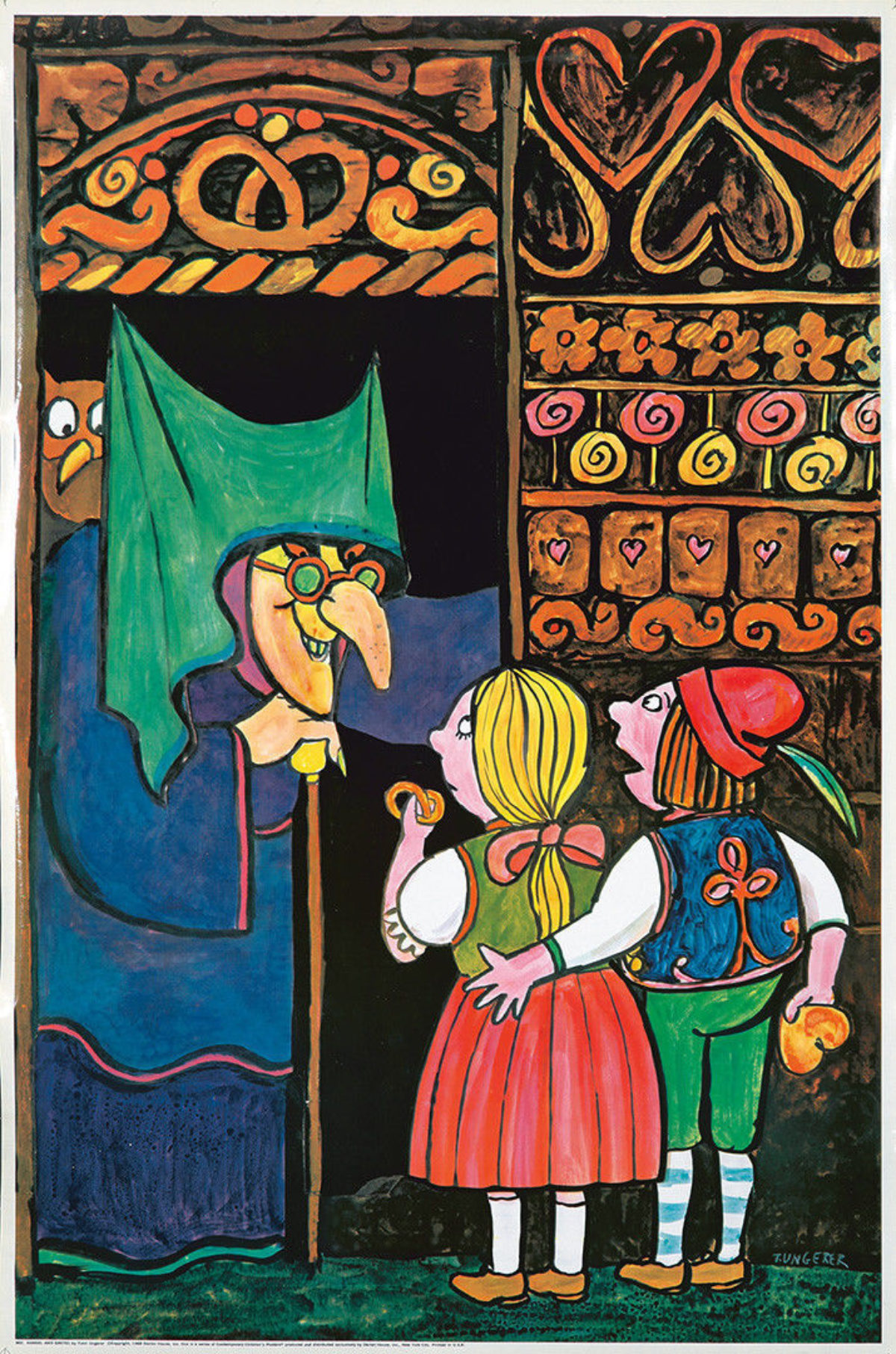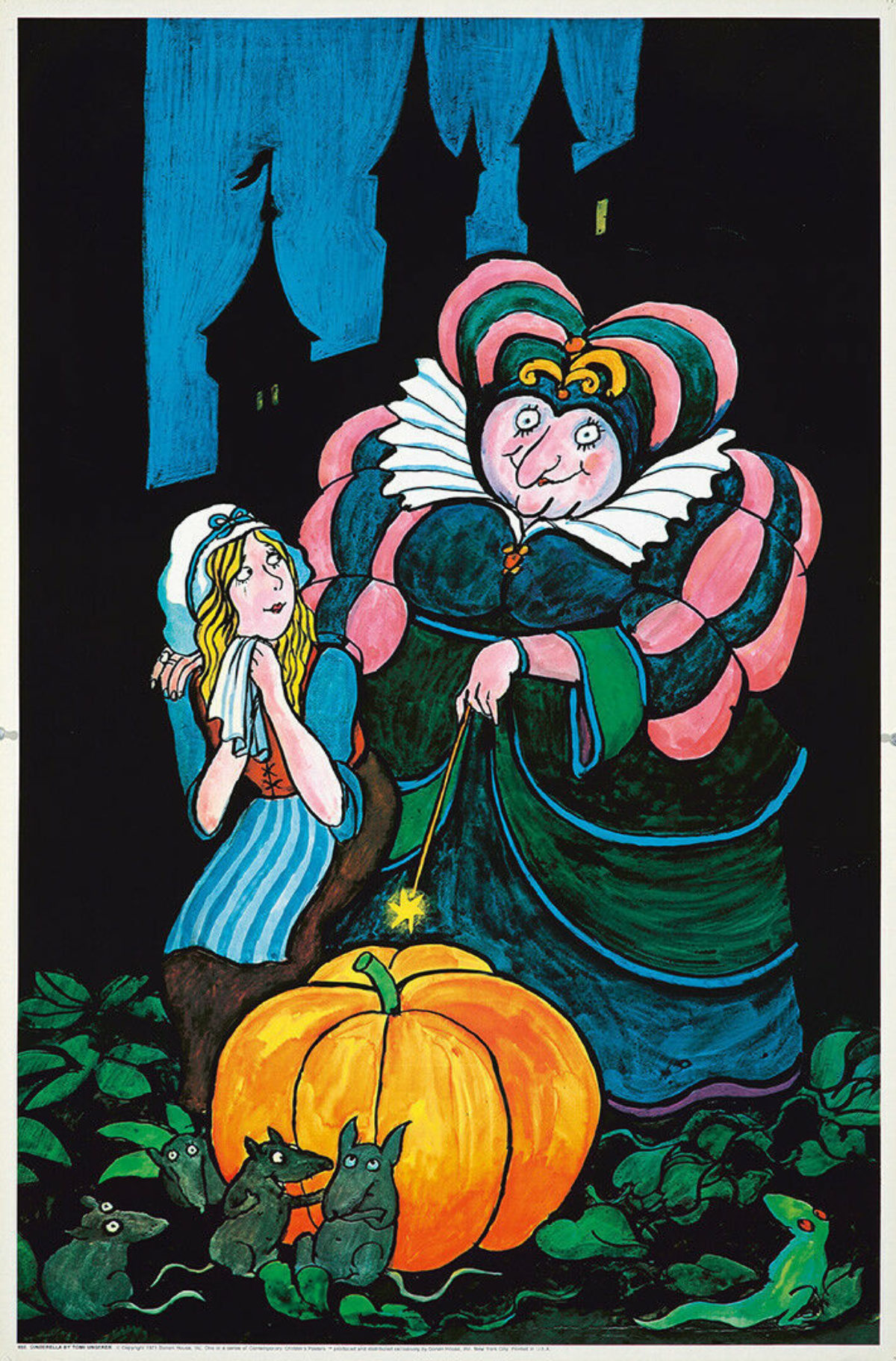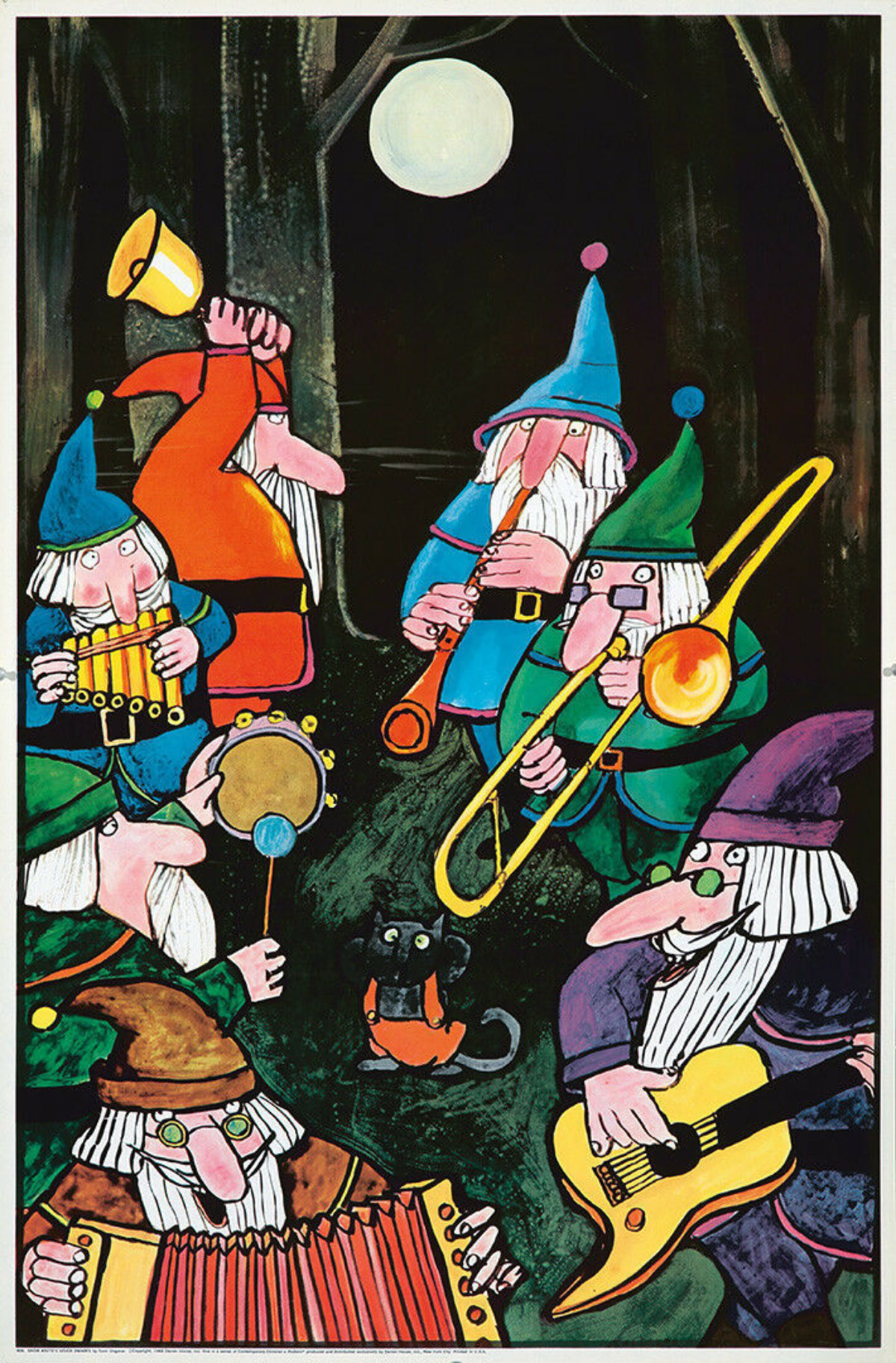 His "respectable" work consisted of dozens of award winning children's books, created concurrently with his masterful posters for the Village Voice, the Ice Capades, and The New York Times. His visual motto throughout his career would appear to be "expect the unexpected," the tagline he originally created for the New York State Lottery, but which would find its way into his zany posters for the Village Voice. New York's streets commonly plastered with Mad Men-era decency now offered something a little weird and a whole lot of fun.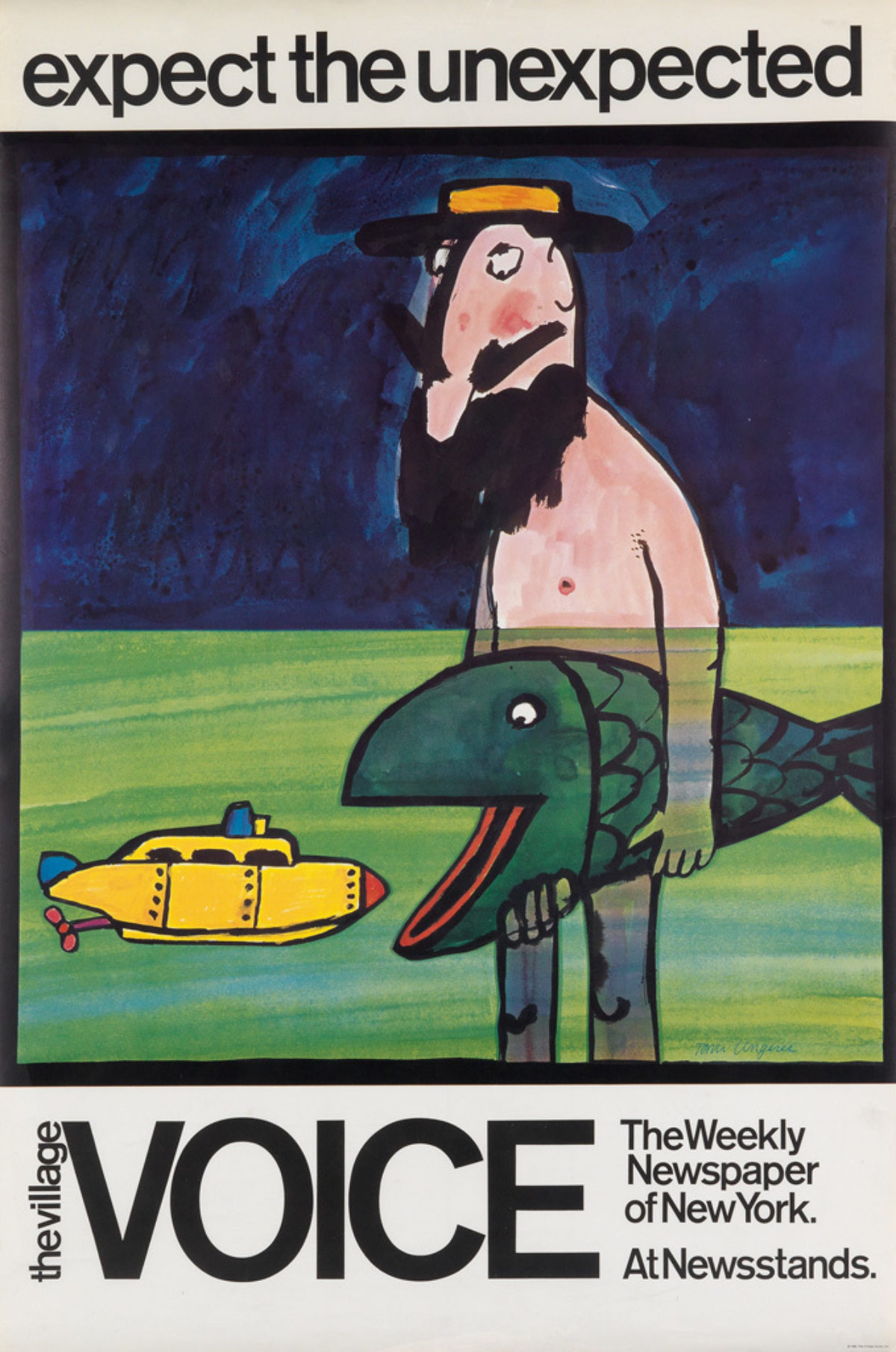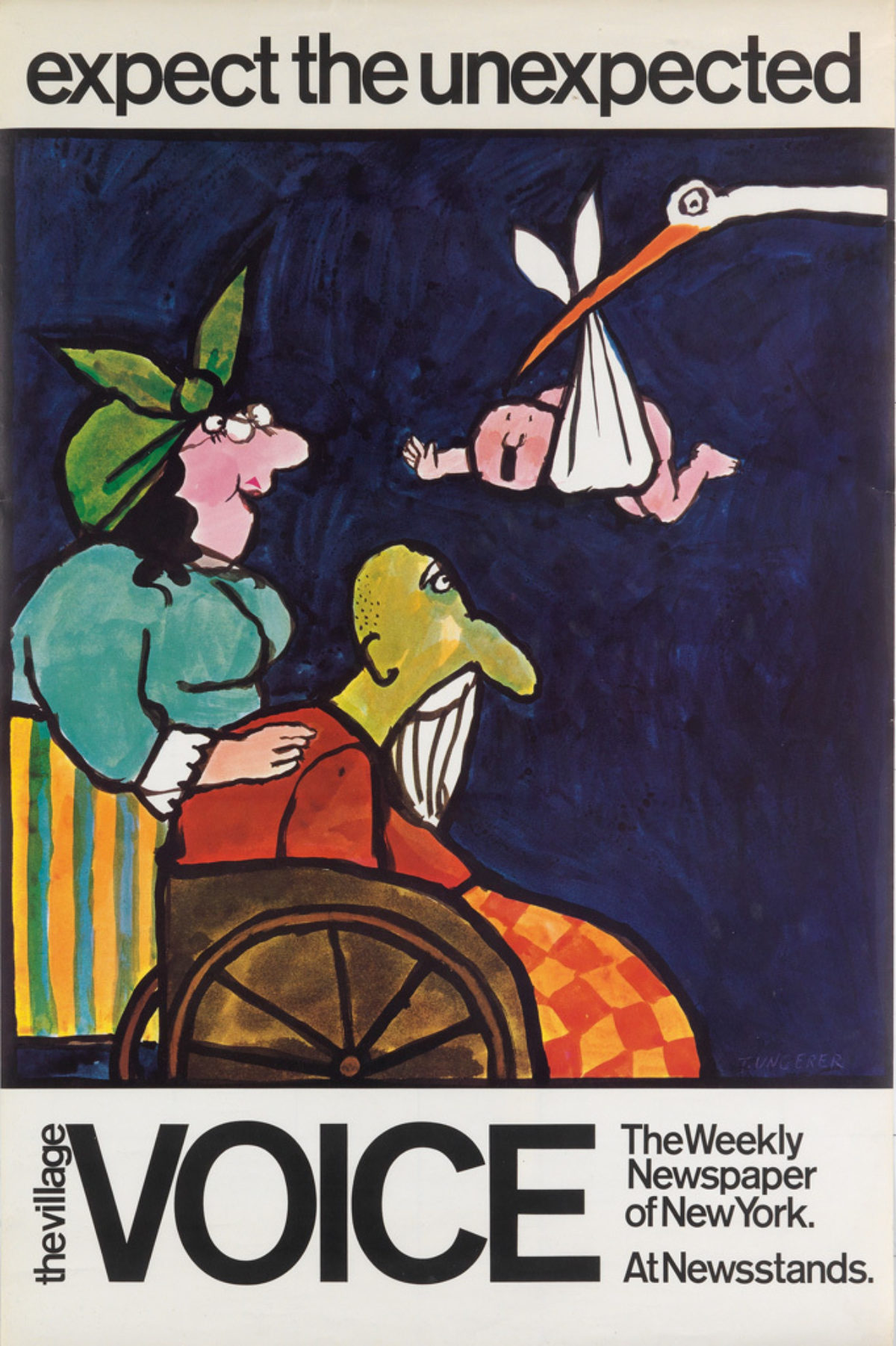 Having survived WWII under German occupation in the tumultuous region of Alsace, Tomi knew more than enough about the horrors of war at a very young age. So, when the Vietnam War began, his reaction was that of pure anger – as he put it, he was "allergic" to war.
In a fit of rage, he produced in one evening some of the most brutal, honest, and shocking posters about the war that still have the power to move us to this day. While other posters of the period seem imbued with kitsch and cliché, his contain, as he called it, the visual "fist punch" needed to best grab the attention of the viewer.
Oddly enough, he learned this technique from the Nazi propaganda machine, as their posters were without a doubt the most compelling, visceral, and arresting of his childhood. Why not take the techniques of one of the most evil regimes in history and use it to his advantage to help take down a new war?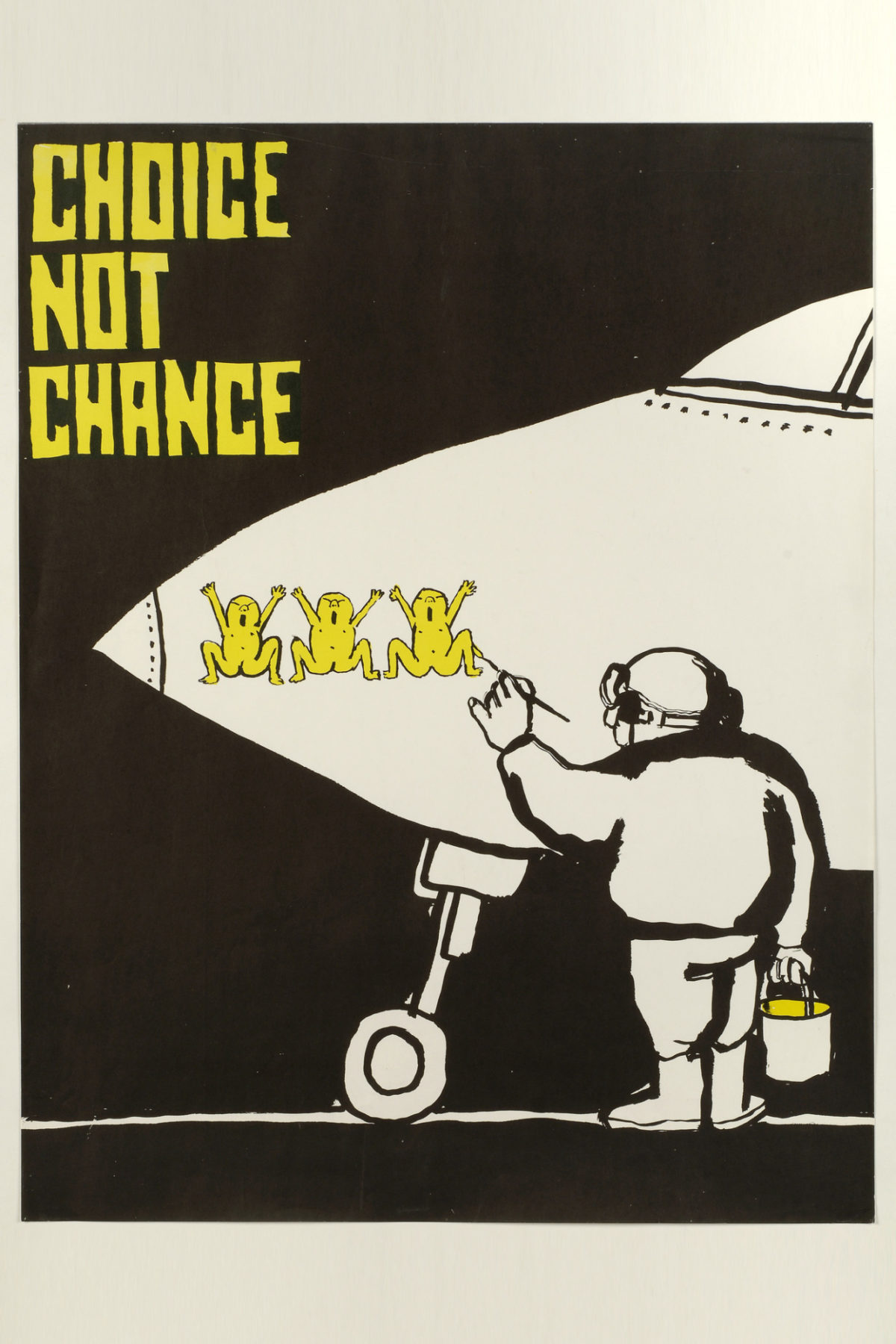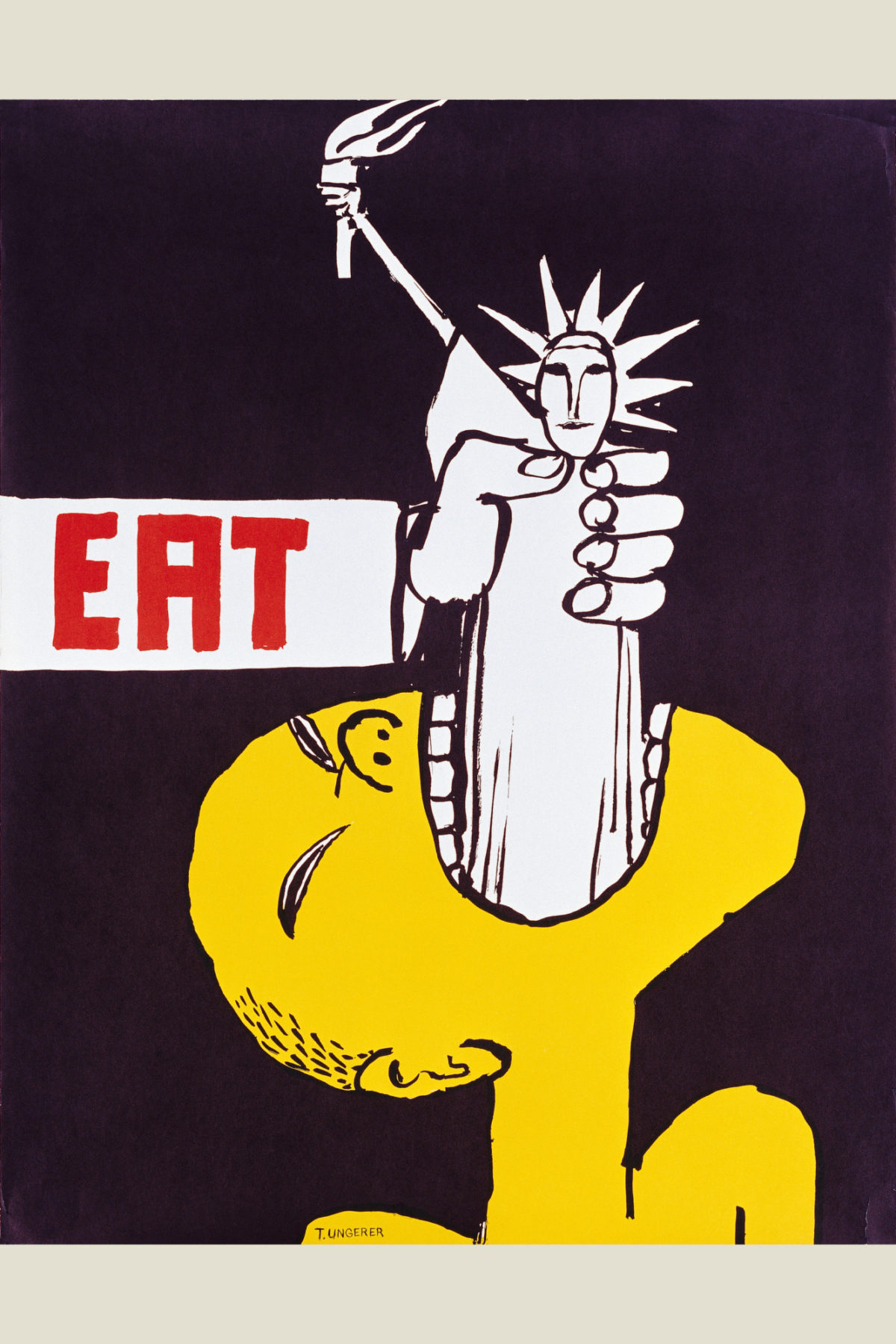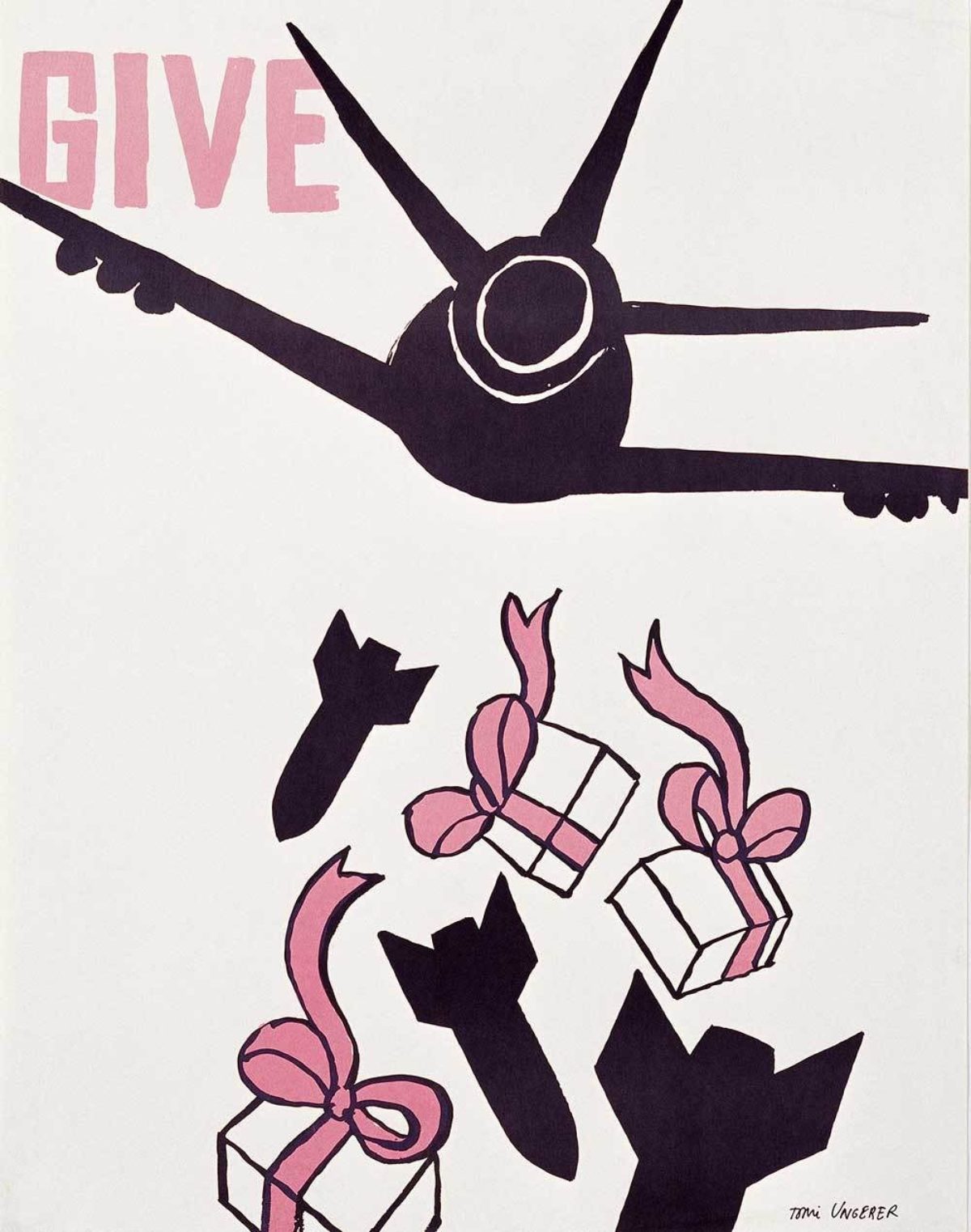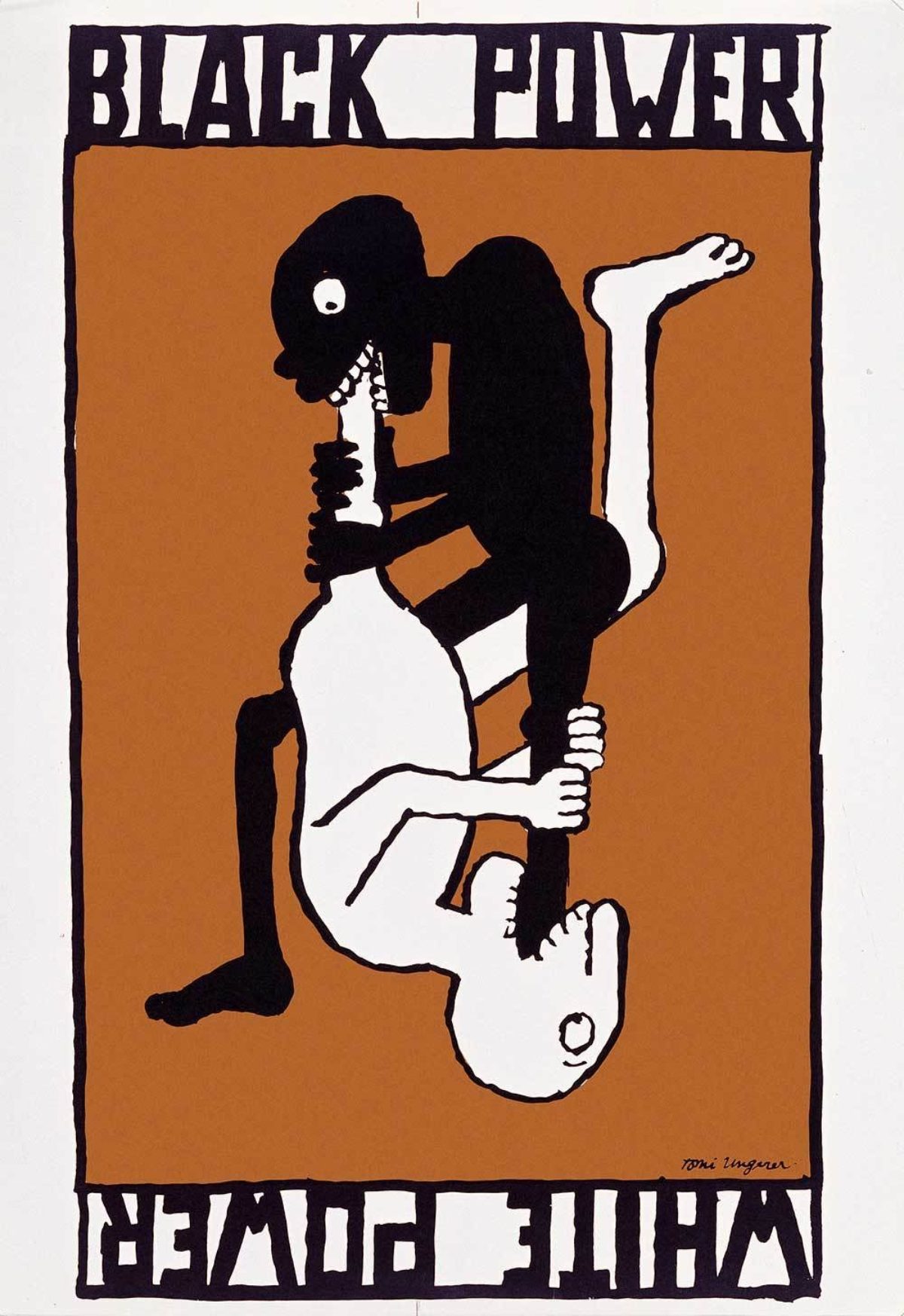 Simultaneously, Tomi also explored the darker and more taboo nature of human sexuality in works like his Fornicon, Underground Sketchbook, and The Electric Circus series. These posters and illustrations, unfortunately, would be his downfall – as soon as the children's book world became aware of his extracurricular art activities, his books were banned from American libraries and his career here was essentially over.
I love ugliness; sometimes the ugly can be beautiful – especially in a woman.
Tomi Ungerer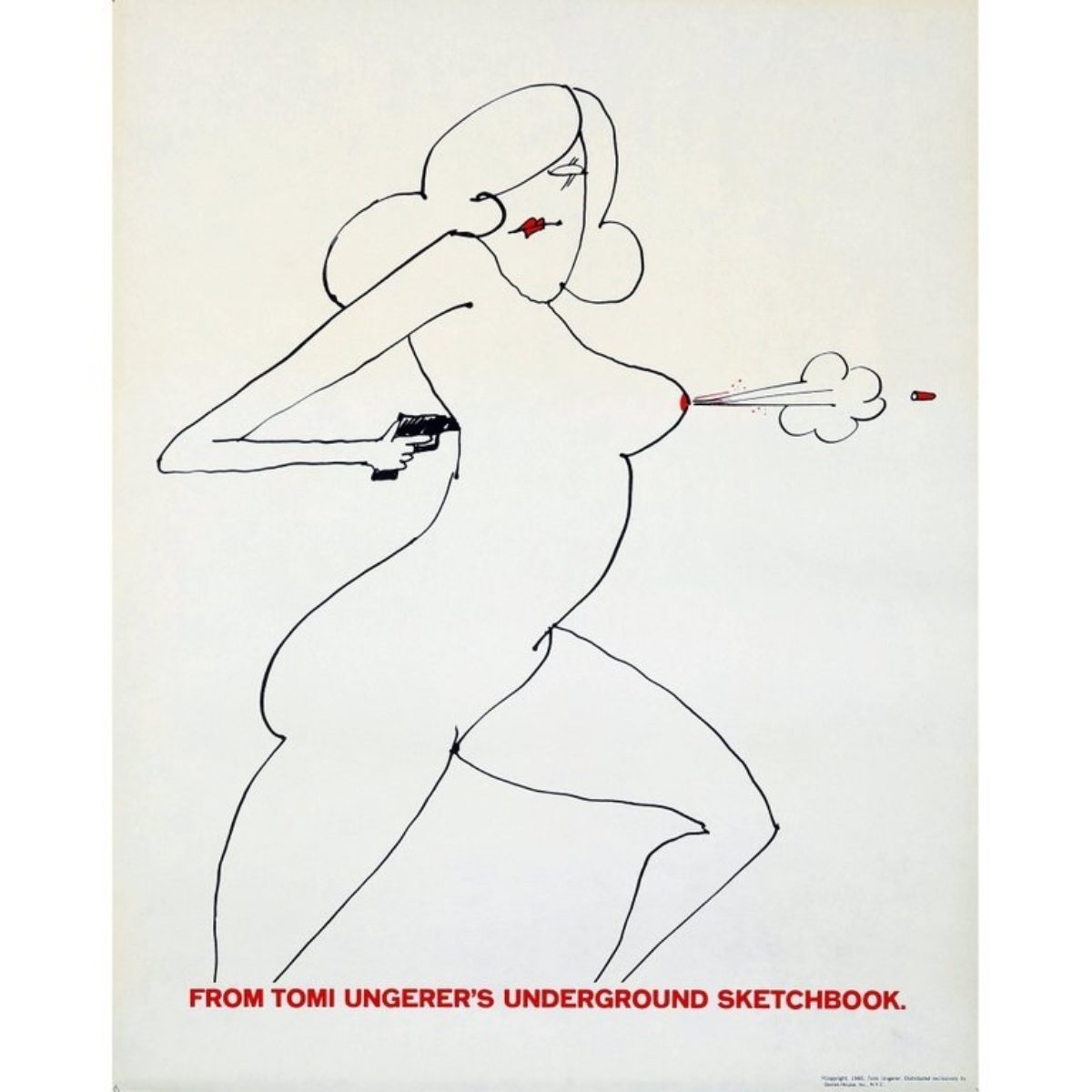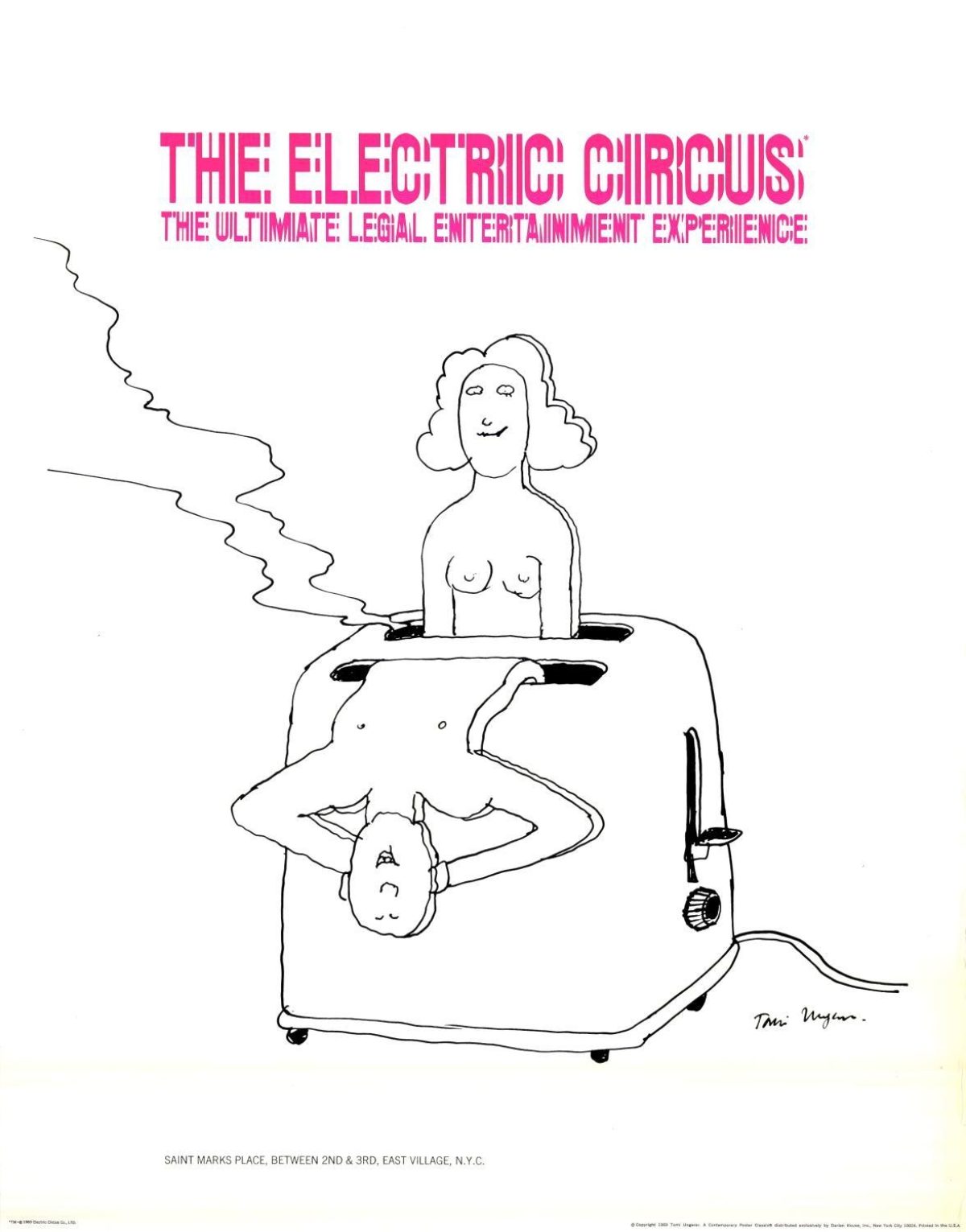 Fortunately, in the 50 years since, his work has achieved a cult following, drawing interest back not only to his children's books but also to the art he created in the political and erotic realm. By the time I began studying posters academically, he was already a legend, a genius who knew how to move us with the simple gesture of his pen.
I have the full respect of a piece of white paper, which I then rape with my drawing.
Tomi Ungerer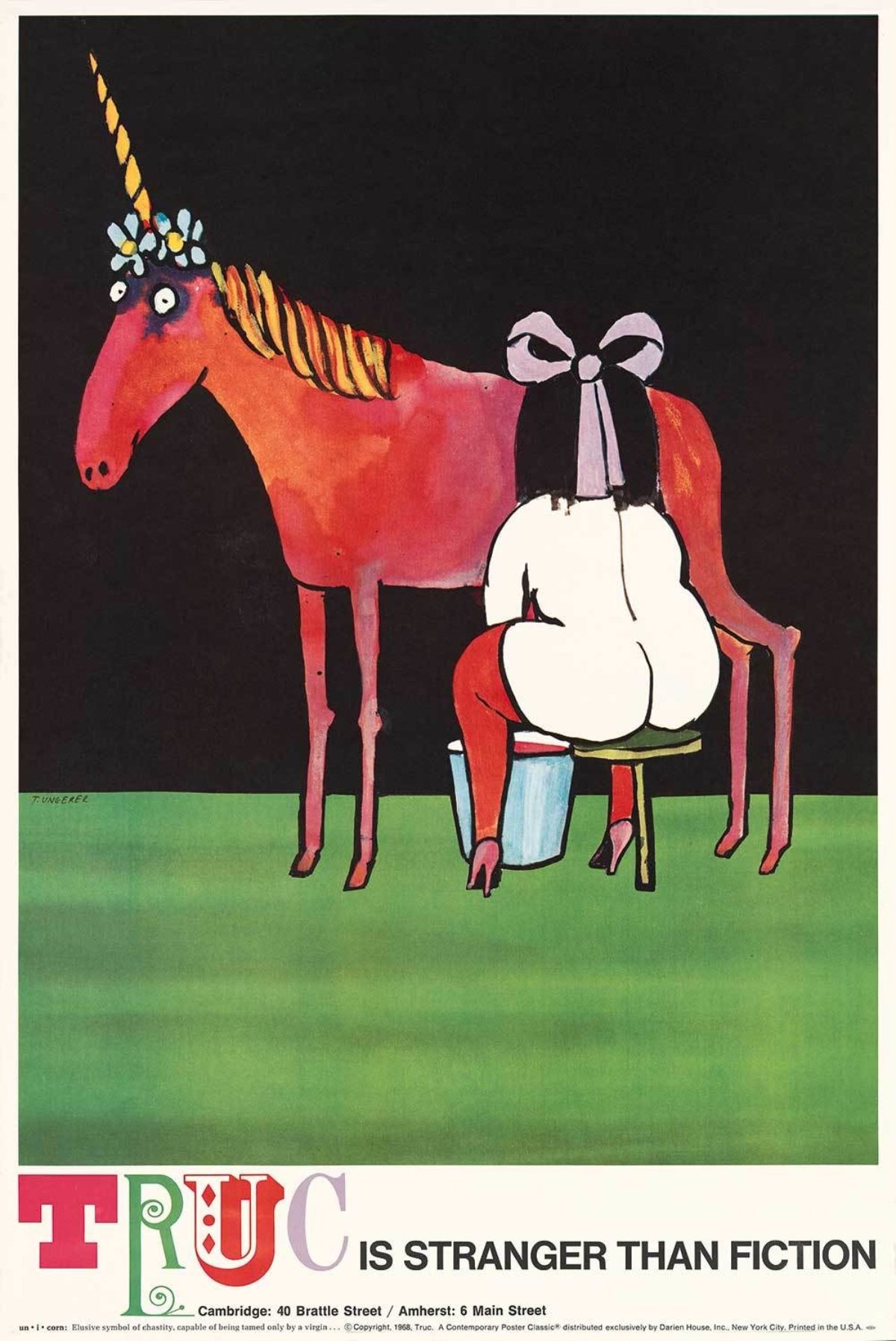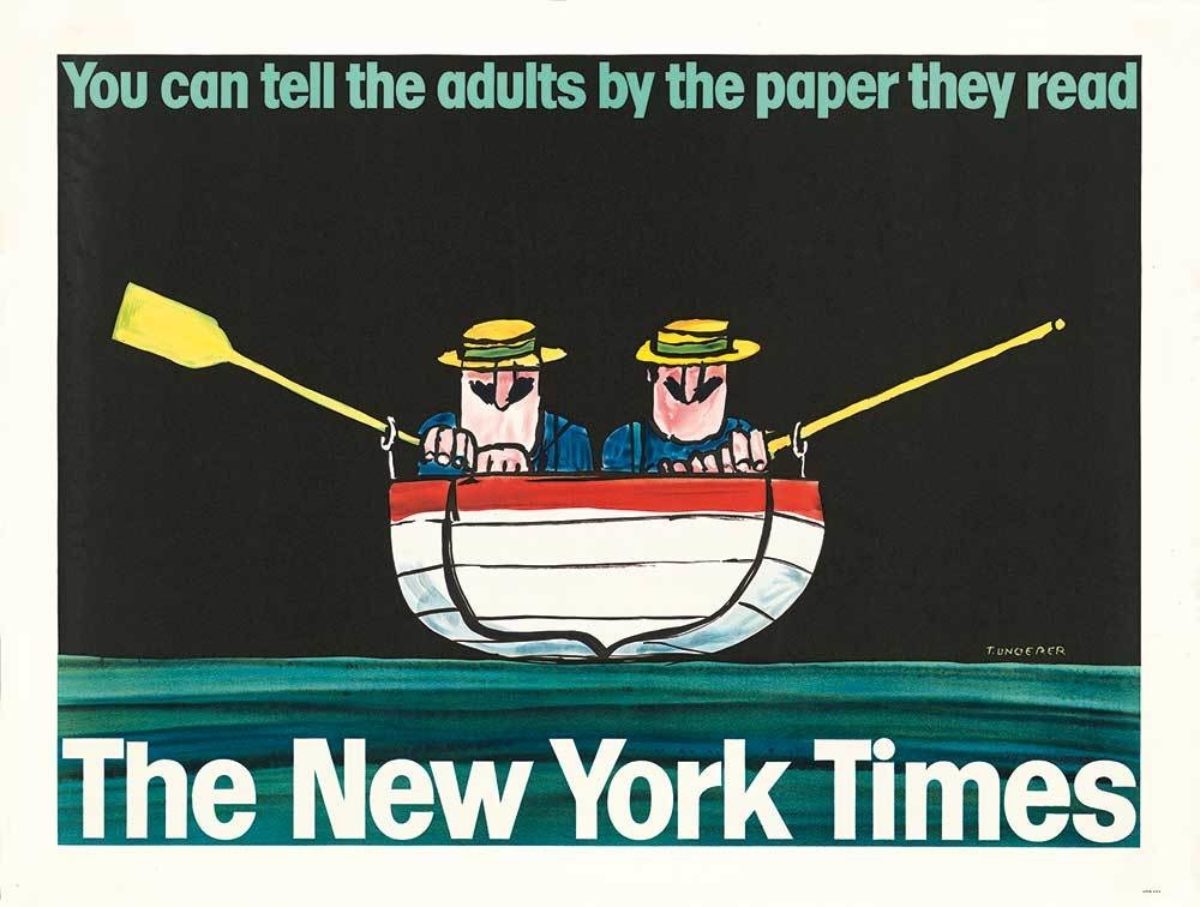 When we were deciding who to ask to create our teaser poster for the New York Art Book Fair a few months ago, the top name on our list was Tomi's. He was the perfect go-between for the literary and poster fanatics out there. Those four images, I believe, are Tomi's last posters – and we are so honored to have been able to produce them with him.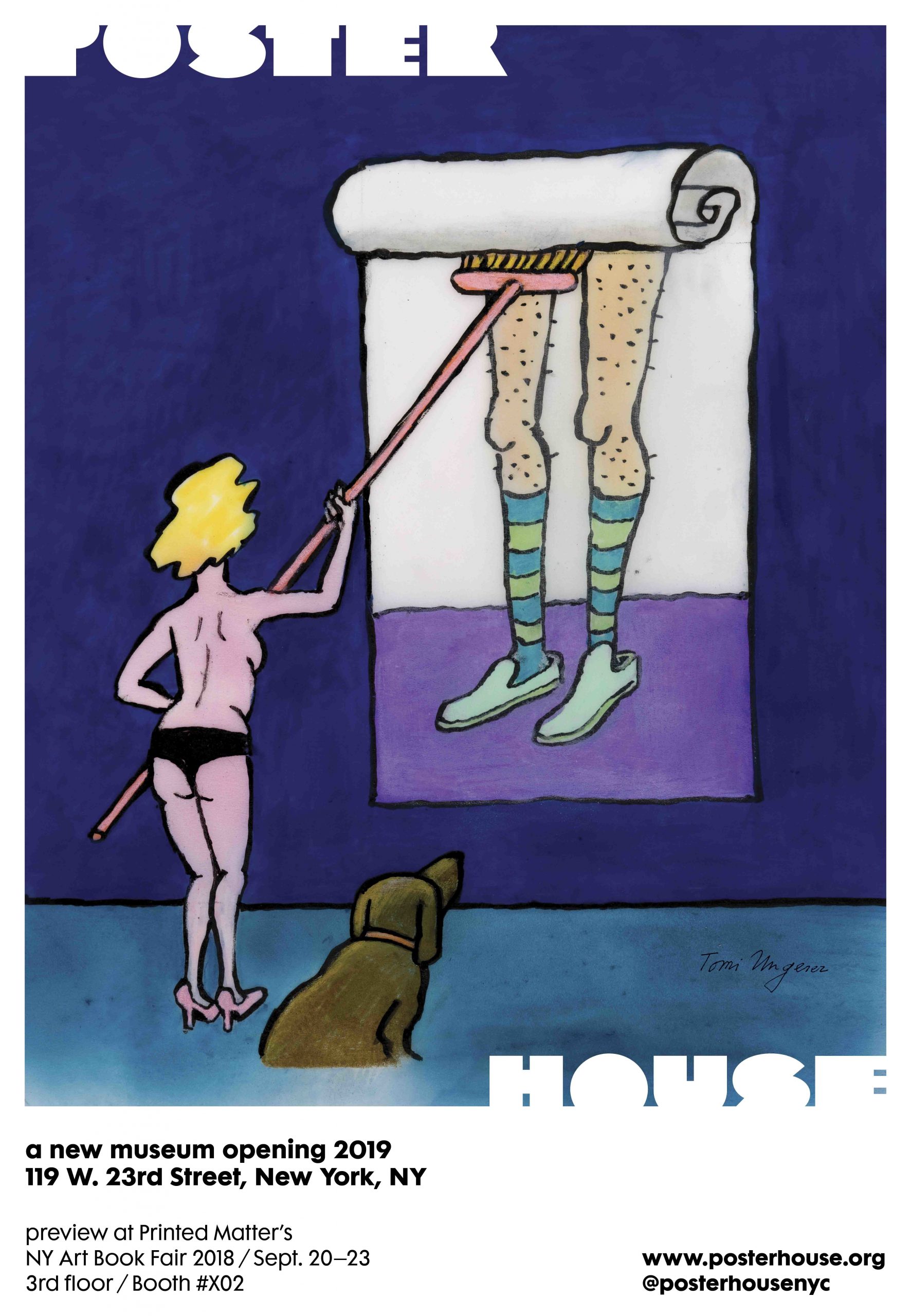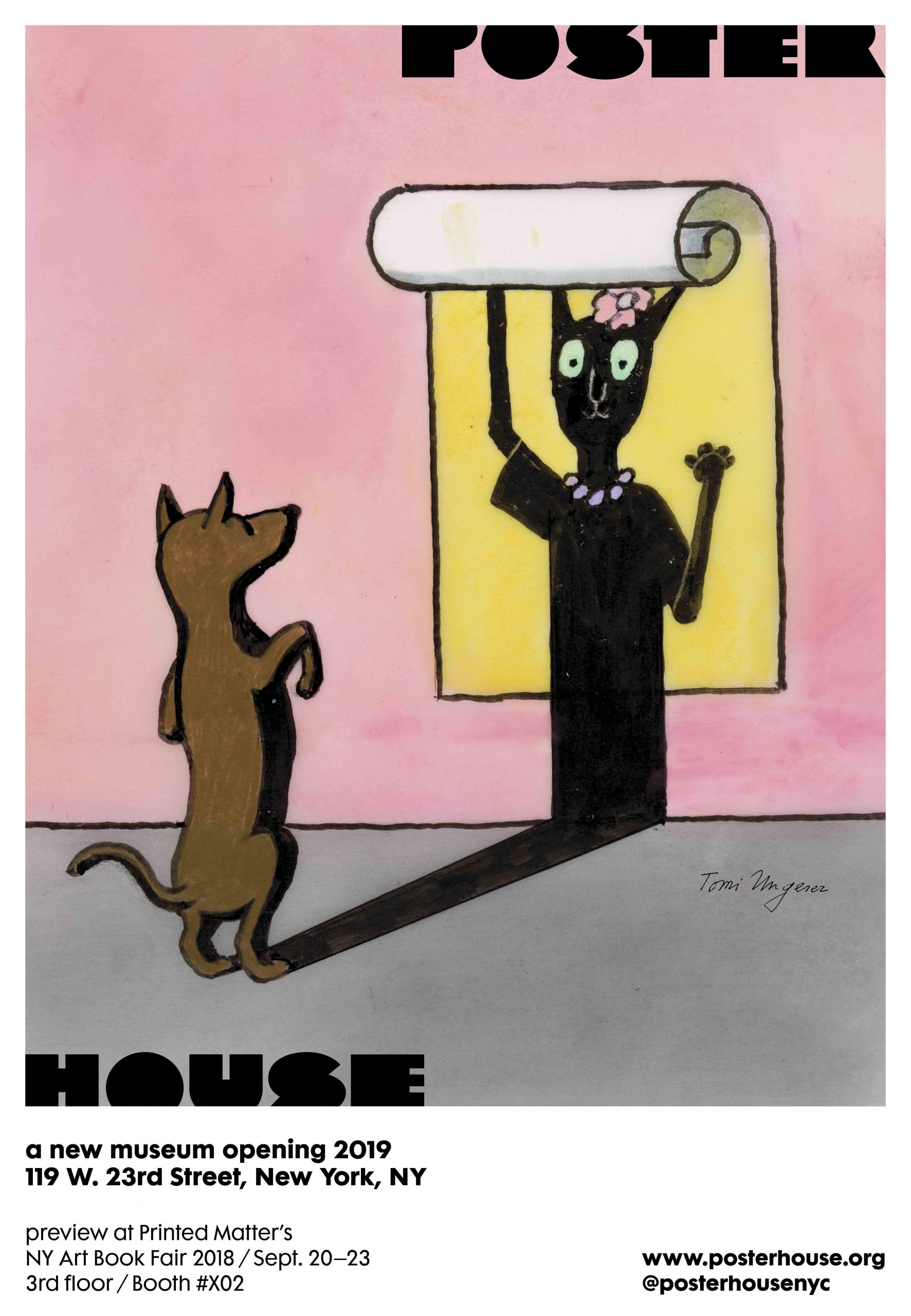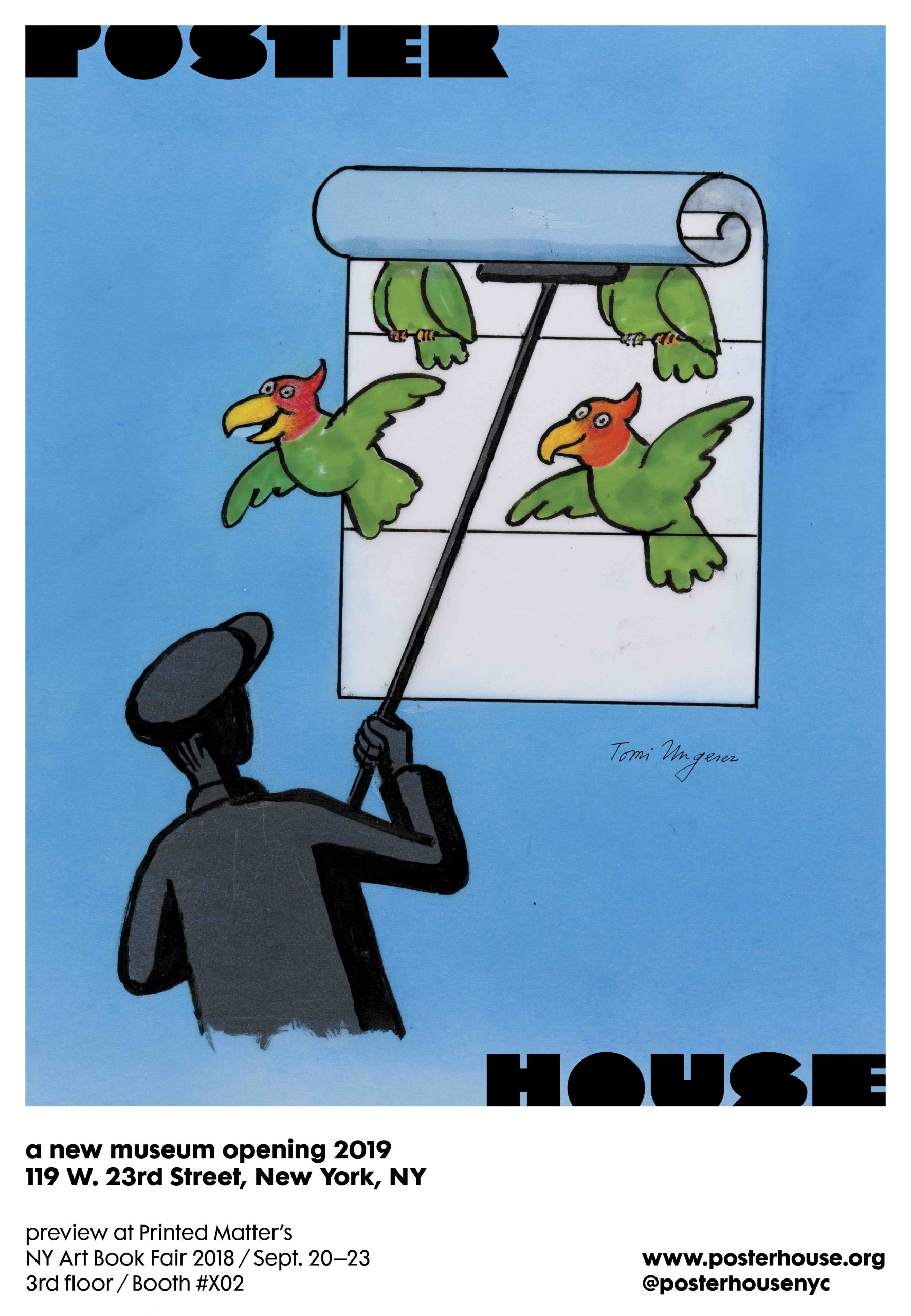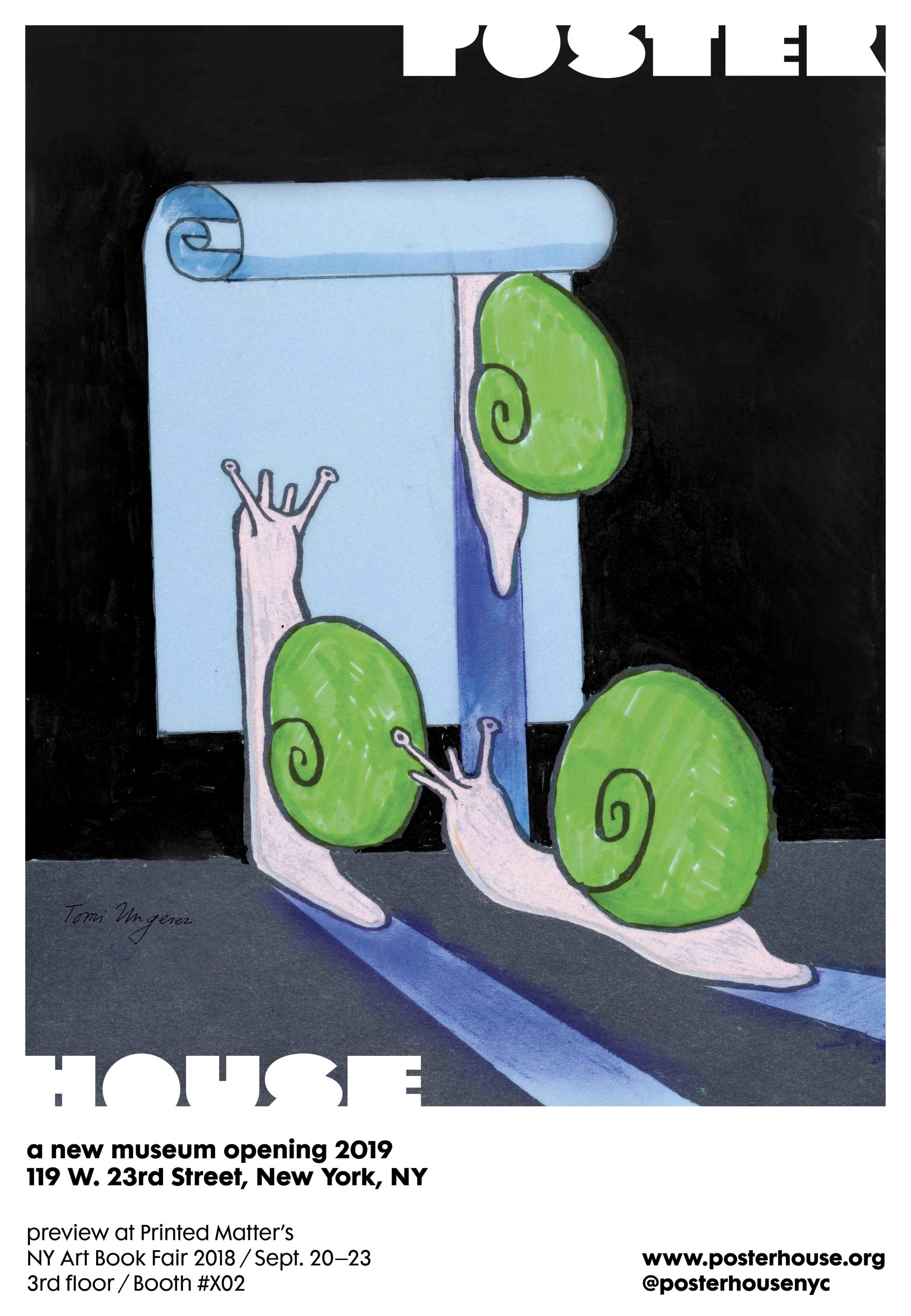 Through a happy accident, I was able to meet him with our Director in early December in Paris. We were boarding a plane to France when a colleague texted me and asked if we wanted to see Tomi when we landed, who just happened to be in town for a book signing. It remains one of the most serendipitous and magical memories of my career.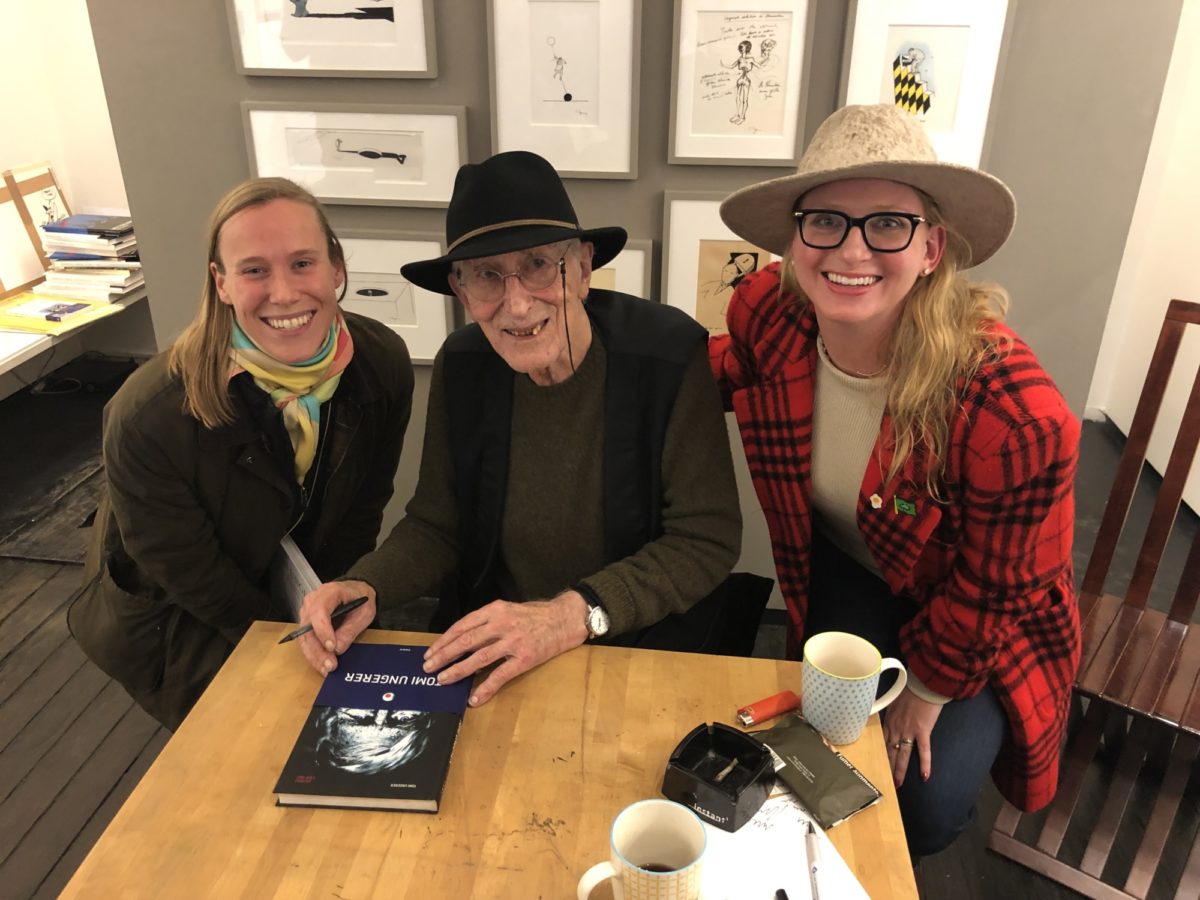 Opening image: Monterey Pop, 1968 (image c/o Pinterest)